How Much Does Tile Reglazing Cost?
On average bathroom tile reglazing costs $64.55 per square foot with average prices raning from $16.95 to $95.20 per square foot in the US for 2020 according to improve.net. You can expect to pay an average of $1,075 with prices ranging from $150 to $2,000 according to HomeAdvisor. Reglazing tile brings back that original shine your bathroom or shower floor tile had the day it was new.

Tile reglazing also known as resurfacing, recoating, or tile refinishing is an affordable way to update your bathroom or kitchen. You should expect to pay between $16.95 and $95.20 per square foot or $1,000 to hire a professional to reglaze your bathroom floor tile.
Bathroom Tile Reglazing Minimum Average Cost: $16.95 per square foot
Bathroom Tile Reglazing Maximum Average Cost: $95.20 per square foot
Are Ceramic Tiles Able To Be Reglazed?
Yes, you can reglaze ceramic tiles.
How Much Should I Expect To Pay To Reglaze Tile In A Bathroom?
In terms overall costs, expect to pay approximately $1,000 to professionally reglaze your bathroom tile.
Am I Able To Paint Ceramic Tile in the Bathroom?
Yes, ceramic tiles can be painted in a DIY manner. However, when ceramic tiles are painted your own the paint will not last as long as when done by professional. This can also, remove some of the grout color schemes.
Can Ceramic Shower Tiles Be Painted?
Yes, shower tiles can be painted. Extra consideration should be paid because of the amount of water can begin peeling if the paint is not correctly applied.
How Durable Is Tile Glaze?
When applied by a professional tile glaze should last between 10 and 15 years.
Can Porcelain Tile Be Resurfaced?
Yes, porcelain tiles can be resurfaced. Since porcelain tiles are harder to repair you should expect to replace a few tiles.
HOW MUCH MONEY DOES TILE REGLAZING SAVE?

I think we all can agree that $5,000 sounds a lot better than $1,000, right? Well, on average, that is how much you can save by reglazing your bathroom tile as opposed to replacing it.
HomeAdvisor says, tile glazing "is more affordable than replacement, costing on average $1,075 versus anywhere between $850-$3,000 to install new materials. The cost to remove tile also adds to the overall price of a full replacement."
As tile contractors come to your home to give you an in-person estimate, ask them how their replacement and reglazing processes differ. While the costs above are good starting points, your local bathroom glazing contractor may charge different amounts based on the cost factors mentioned above.
Reglazing Tile Uses
Over time, bathroom tiles can really show their age, resulting in an appearance that's something less than desired. Replacing this tile in or around a shower or a bathroom sink can be a major undertaking. Ripping apart tiles can also damage the surrounding walls and even the tub if not done properly.
Reglazing basically restores luster to the tiles and breathes new life into their appearance and function. Some common tile areas in the bathroom that can be reglazed include:
Showers
Floors
Walls
Counters
Reglazing is recommended for certain surface tiles including ceramic tile, cultured marble, fiberglass, porcelain tiles and some laminate tiles. For DIY projects, you need to make sure the glazing compound is compatible with what it's being used on.
TILE REFINISHING VS TILE REPLACEMENT COST

According to Home Advisor, the average price to refinish ceramic tile also is $1,075 prices range between $150 – $2,000 or if you are pricing by square foot expect a range of $4 – $10 per square foot. In comparison, the average price to install ceramic tile is $3,500 and ranges between $2,700 – $13,000. Another factor to take into account is time, tile refinishing can be done in as little as 8 hours by contrast tile replacement can take up to 4 weeks from start to finish.
HomeAdvisor says, tile glazing "is more affordable than replacement, costing on average $1,075 versus anywhere between $850-$3,000 to install new materials. The cost to remove tile also adds to the overall price of a full replacement."
ADVANTAGES OF TILE REGLAZING

We first start with cleaning the tile as well as the surrounding area to remove any oil, dirt, or other debris from the site.
Next, we evaluate the tile for damage like cracks, then we begin etching the tile and repairing chips so the refinishing agent can bond with the tile correctly.
After we apply a primer to the tiles and begin to recoat the grout.
During our final step, we will inspect the work area to ensure there are no cracks or damage to caulking or grout then we will apply the final coat of enamel.
DISADVANTAGES OF TILE REGLAZING

The disadvantages of tile glazing includes:
Wear resistance of glazed tile isn't as great as polished tiles
The firing process reveals bends, cracks, pinholes, firing, and wavy spots are seen
Yanjin says, "Look at the water absorption rate, generally good brick, good press, high density of pressing, high firing temperature, good porcelain, so the water absorption rate is also small."
FREE TILE GLAZING QUOTES IN ARIZONA!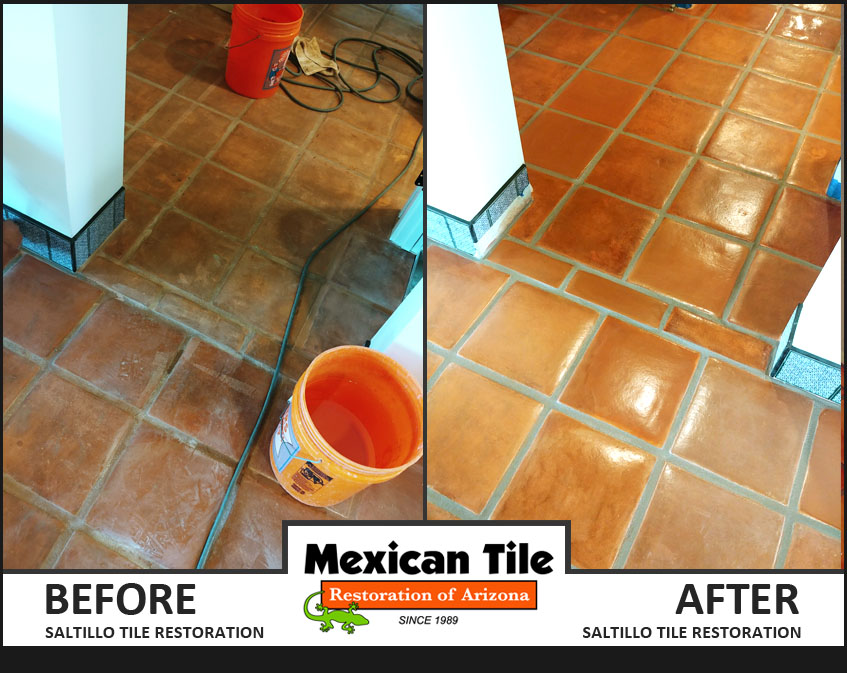 For the last 27 years, Mexican Tile Restoration has provided tile refinishing, tile restoration, grout cleaning, among other services for Saltillo tile, marble tile, travertine tile, granite tile, terrazzo tile, limestone tile, porcelain tile, and ceramic tile floors. We also offer grout cleaning/sealing.
Get a free tile restoration quote anywhere in Phoenix including Scottsdale, Mesa, Tempe, Chandler or anywhere else by giving us a call today. We are proud to be the #1 Mexican tile cleaning, grout cleaning, tile repair, tile tear out, and tile replacement provider in the Phoenix Valley since 1990. Mexican Tile Restoration cleans and removes scratches from old saltillo tile and grout, reverses fading damage from excessive sunlight, replaces broken tiles, matches colors for replacement tiles, mends chipped grout lines, and polishes and seals your entire floor to make it look brilliantly new again!
We invite you to call us today at 602-370-6082 to discuss your tile & grout restoration and service needs in Phoenix, Arizona!